Board Briefs - 3/8/22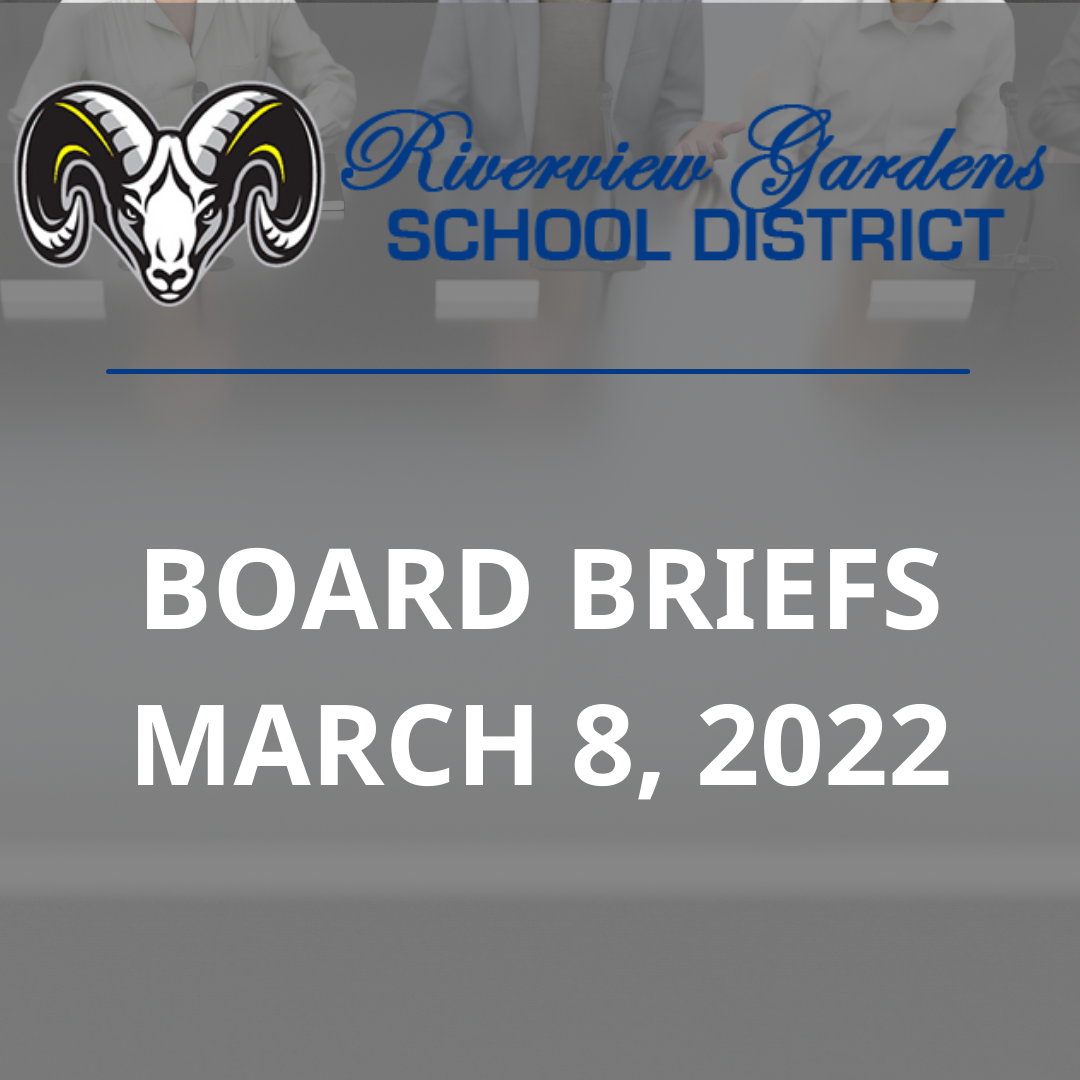 ---
Highlights and Summary of the March 8, 2022 Special Administrative Board meeting
To view the video recording, visit https://youtu.be/ixzo2NDOeEQ
Announcements & Reports:
The SAB has reached an agreement with Dr. Joylynn Pruitt-Adams that will see her remain in leadership as the Interim Superintendent, effective April 1, 2022. Then, effective July 1, 2022, Dr. Pruitt-Adams will remain onboard and her title will be elevated to Superintendent of Schools.
"We are pleased with the tremendous work Dr. Pruitt-Adams has done in such a short time with helping us to envision A New View on the Horizon for Riverview Gardens," Morrow-Reel stated. "We are confident that Dr. Pruitt-Adams will continue to provide the vision and stability in leadership needed to help our scholars achieve academic excellence as we continue to strive to regain full accreditation.
Dr. Miranda Avant-Elliott, SAB Secretary, completed 18.5 hours of MSBA essential training and has completed the requirements by Missouri law for new Missouri school board training.
March 6-12 is School Board Appreciation Week. The SAB received resolutions from Governor Mike Parson and Moline Acres Mayor Michelle DeShay recognizing the week as School Board Appreciation Week and honoring the SAB.
March 6-12 is National School Social Worker's Week. The District received a resolution from Governor Mike Parson honoring school social workers.
School Registration:
Registration begins for Kindergarten students only - March 28, 2022- April 30, 2022
General Registration begins - July 11, 2022
Items for Information:
RGSD March 2022 COVID-19 Protocols for Scholars and Staff - The SAB approved updated COVID-19 Protocols. In the updated protocols, masks are now optional, but strongly encouraged by the District. Due to a significant decrease in COVID-19 transmission numbers, and changes in guidance by the CDC and the St. Louis County Department of Public Health, masks are no longer mandated by Riverview Gardens School District in buildings and on District transportation.
The SAB and District Administration will continue to review face-covering requirements
depending on various factors, including data and information such as COVID positivity
rates at District buildings, community spread, etc.
Communications Survey Results - The results of the RGSD Communications Survey created by the RGSD Communications Committee were presented to the SAB. The survey results identified that School & District Climate are a priority for improvement. Family support was listed as a strength. District Administration is working to implement practices to address the concerns of the community and staff and improve communication and climate.
Items for Discussion:
United Cab Service
KHAOS Inc.
Federal Programs: Title I (A) & Title (a)-(Comprehensive School Improvement Funds)
22-23 Staffing Plan - a recommendation to approve the 2022-2023 Staff Plan. The notable changes are:
The addition of 1 teacher at Koch Elementary School

The addition of 1 teacher at Meadows Elementary School

The addition of 1 teacher at Glasgow Elementary School

The addition of 1 teacher at Lewis & Clark Elementary School

The addition of 1 teacher at Moline Elementary School
Items for Consent
Open Session Meeting Minutes
Summer Curriculum Writing
E-Rate Cable Maintenance
E-Rate Vendor Update
RGHS Commencement Ceremony
Temporary Staffing in HR
Summary of Fund Balance Report - Dec. 2021
Actions and Approvals:
United Cab Service - The SAB approved an agreement with United Taxi Cab Services to provide transportation for Students in Transition at a cost not to exceed the overall transportation budget amount of $200,000.
View the full agenda for the March 8, 2022 Special Administrative Board Meeting.