RGSD Graduates Parade Across the Stage with Community Pride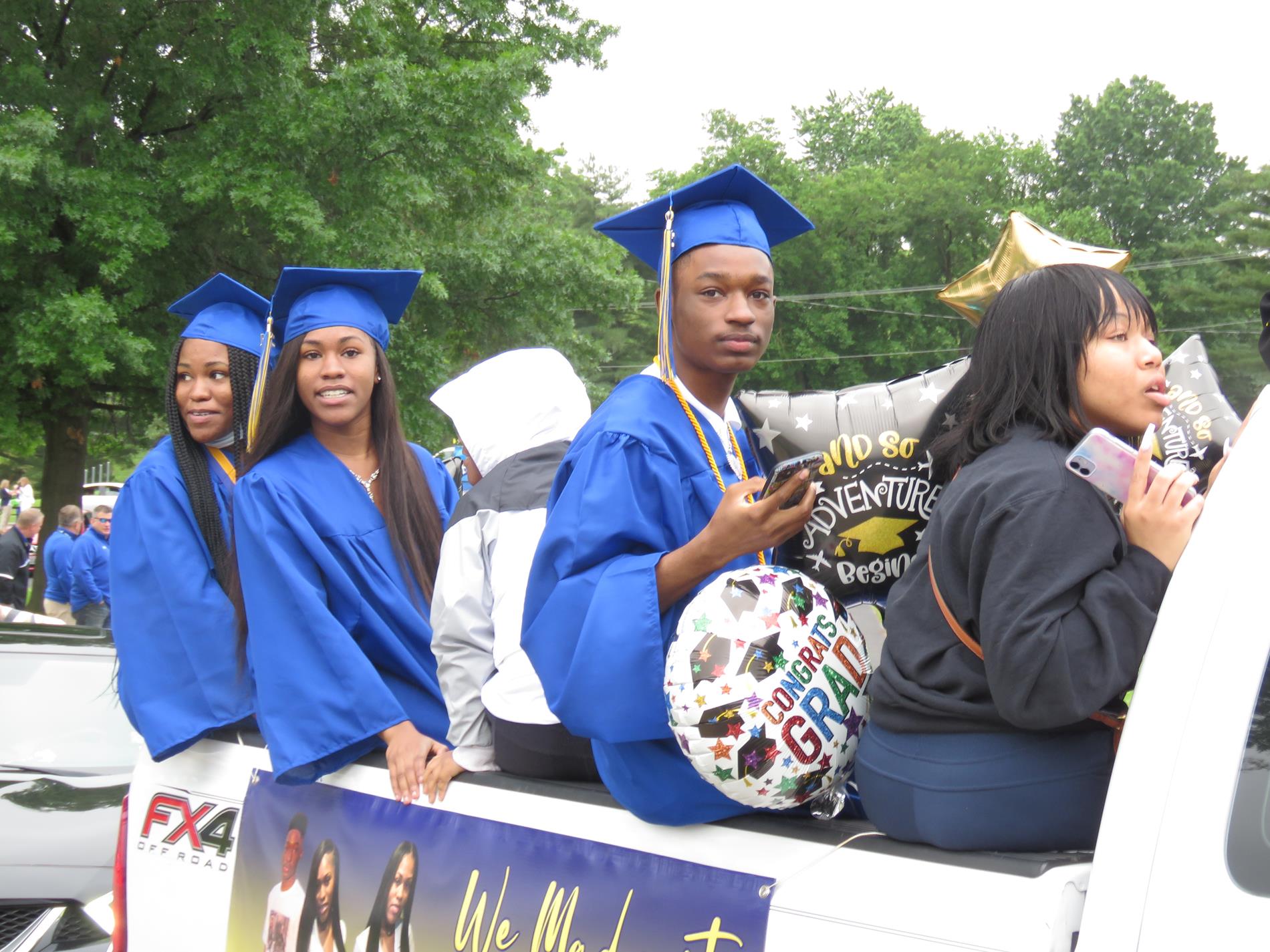 ---
The Riverview Gardens High School Class of 2021 celebrated in style as the high school hosted its second consecutive campus graduation parade. Due to the COVID-19 pandemic, RGHS elected to eschew the traditional high school graduation ceremony in lieu of a drive through style event. While the event lacked formal commencement speeches, it overflowed with family and community pride.
Families of RGHS graduates decorated their vehicles with photos, artwork, banners and balloons and proudly drove through the high school's circle drive. Each graduate was announced and walked across the stage to receive their hard-earned diplomas. Meanwhile, family members cheered and gathered for photos to celebrate the accomplishments of their newly-minted graduates.
"For the second year in a row, Riverview Gardens High School hosted a remarkable event to celebrate our graduates," said Superintendent Scott Spurgeon. "The Class of 2021 showed resilience and dedication to persevere through this pandemic. We are proud to see what they were able to accomplish, despite the adversity presented by COVID-19."
The atmosphere for the graduation parade was jubilant as Band Director and DJ Craig Nowden provided the soundtrack to the upbeat atmosphere.
Graduates beamed with joy, walking across the stage to get their diplomas, in person, after a year dominated by Chromebook screens, webcams and virtual classes. Graduating senior Tyrese Hughes reveled in the event.
"Walking across the stage was a great experience," Hughes said. "It gave me a feeling of accomplishment."
The afternoon was particularly special for Hughes. His twin sisters, Lamya and Damya Green, also graduated and walked across the stage to receive their diplomas together. It was a proud moment for the entire family.
The next step for Hughes will be to attend Tennessee State University. When asked why he selected TSU as the next stop on his educational journey, Hughes' answer was simple.
"It reminded me of my high school," he stated. "I had a good time [at Riverview Gardens High School]. All my teachers taught me well and pushed me to be better."
"TSU just felt like a small community where everyone can come together and help each other."
While Hughes will be headed to Tennessee State University to capture the community feel of RGHS, his sisters will stay in the community. According to Hughes, Lamya and Damya Green will soon become entrepreneurs and open their own cosmetology shop in the area.