Board Briefs - 6/28/22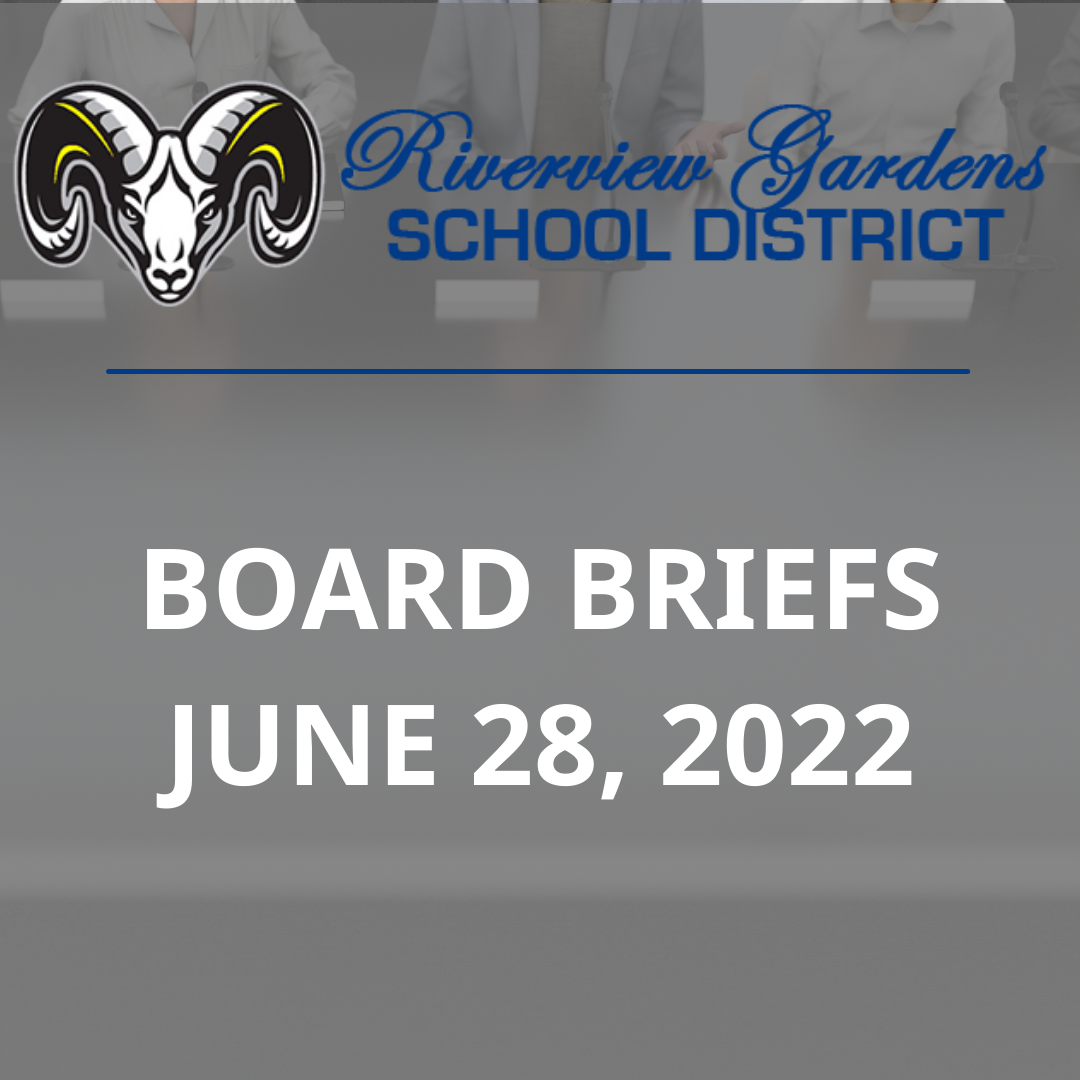 ---
This is just a snapshot of highlights from the June 28, 2022 Special Administrative Board meeting for Riverview Gardens School District.
To view the video recording of the full meeting, visit https://youtu.be/PQqddx9lobU
To view the meeting agenda, visit http://go.boarddocs.com/mo/rgsd/Board.nsf/goto?open&id=CF9PCK63FAF9
Announcements & Reports:
A moment of silence was taken for an RGSD scholar who passed away in an automobile accident on Monday, June 27.
Items for Information:
CSIP Update: Each year, the district is charged with providing status updates for the district's Comprehensive School Improvement Plan (CSIP). The plan outlines the district's strategy for the improvement of student outcomes.
In the consideration of time, Dr. Pruitt-Adams summarized the Items for Information, and requested SAB members submit any questions to Dr. Joylynn Pruitt-Adams and/or Sha Fields to be answered in writing.
Additional Items for Information Included:
Project Lead the Way Grants

KHAOS (Keep Healing And Overcoming Struggle)

Students in Transition 2021-2022 Expert Report

Facilities End of Year Review

Food Service Program Evaluation for SY 2021-2022

RGSD June 2022 COVID-19 Protocols for Scholars and Staff

St. Louis County Community Level is categorized as HIGH, however RGSD will remain Mask Optional (Item was moved to discussion)
Items for Discussion:
2022-2023 Budget Presentation
$17,113,976 - Opening Fund Balance

$17,496,259 - Ending Fund Balance

$382,283 - Change in Fund Balance

22.88% - Percent Fund Balance
Capital Projects Fund Balance additional transfer request not to exceed $1.4M
On August 30, 2021 at the special SAB budget meeting to amend the 2021-2022 budget the SAB authorized a budget transfer from the General Fund to the Capital Projects fund in the amount of $1,122,259. The projected fund balance transfer was as a result of the difference between the anticipated revenues and expenditures in the Capital Projects fund for FY 21-22. The Summary of Fund Balances Report Ending May 31, 2022 shows a deficit of ($2,356,569) in the Capital Projects Fund. Therefore, it is necessary to complete another transfer request.
Summary of Fund Balance Report for the Month Ended May 31, 2022
Temporary Summer Cleaning Technicians (July 5-August 19th) Internal Positions
SAB approved the hiring of 30 summer cleaning technicians from July 5-August 19, 2022 at a cost not to exceed $122,400.
Key Consent Agenda Items (Approved)
Solution Tree, Inc Proposal for Turnaround Work for FY22-23

22-23 Staffing Plan Adjustment

Central Office Organizational Re-alignment for 2022-2023
Approved Items for Action
FY22-23 Proposed Budget (Final Draft)
Capital Projects Fund Balance additional transfer request not to exceed $1.4M
Temporary Summer Cleaning Technicians (July 5-August 19th) Internal Positions
22-23 Revised Salary Schedules - Custodial and Food Service